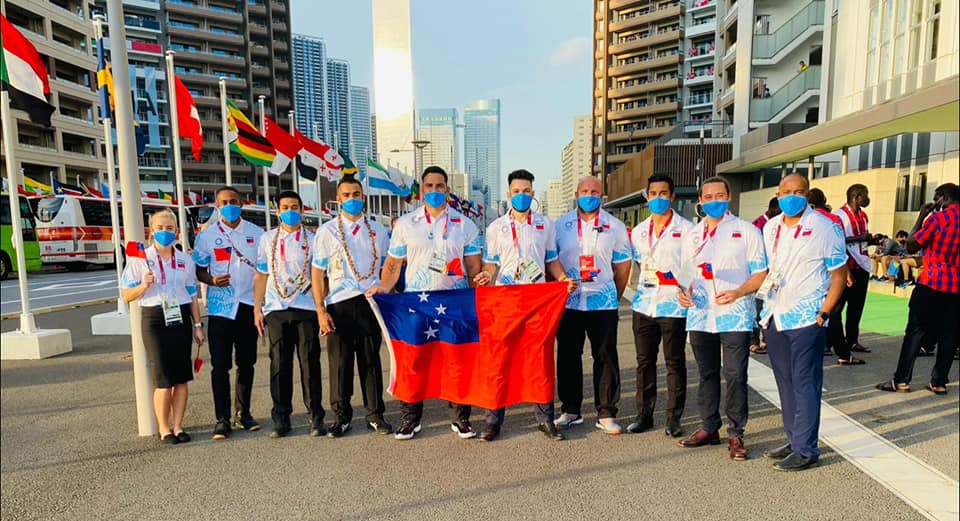 Team Samoa to the Tokyo 2020 Summer Olympics, comprising eight athletes and several officials have arrived safely at the Games Village in the Harumi Waterfront district of Tokyo, ready to compete. Here is the list for Team Samoa:
• Marion Faustino Ah Tong-Boxing (Welterweight)
• Ato Plodzicki-Faoagali –Boxing (Heavy)oEroni Leilua –Sailing (Men's Laser)
• Peniamina Percival -Judo (Men's 81kg)
• Alex Rose-Athletics (Discus)oTuva'a Clifton –Canoeing (Men's K1 200m)
• Anne Cairns –Canoeing (Women's K1 500m)
• Rudolph Beking-Williams (Men's C1 1000m)
• Carl Barnes (Coach)
Following the Government of Samoa's decision to protect its population by limiting international travel and focusing on COVID-19 vaccinations, three Samoan weightlifters were impacted. In response, the global community of Samoa showed its value in community by stepping in to proudly represent Samoa at the Tokyo Games. This includes athletes who have been in Training Camps in other countries.
ONOC PROVIDES CHEF DE MISSION ROLE SUPPORT IN A SHARED MODEL
The Oceania National Olympic Committee (ONOC) is supporting Team Samoa as part of its normal NOC Support Services and ONOC Shared Services Programme by providing the Chef de Mission role for the athletes in Tokyo.ONOC has assured the Government and people of Samoa that its athletes will be supported before, during and after the Olympic Games here in Japan.
It has seconded ONOC Chief Communication Officer, Mr Inoke Bainimarama to be Proxy Chef de Mission to provide management and welfare support for Team Samoa during the Games. He is working alongside Team Samoa Chef de Mission, Nynette Sass back in Apia.
Ms Sass is driving all Team Samoa operations remotely out of Apia with support by the executives, management and staff of SASNOC. Part of the ONOC support includes Mr Michael Kohn seconded as Chef de Mission for the Federated States of Micronesia. SASNOC has applauded ONOC for stepping in to assist Team Samoa.'The Oceania National Olympic Committees is unlike any other in the world, a committee where community is the driving value.
The delegation of Samoa expressed immense gratitude for the support given by ONOC in these challenging times,' said SASNOC.'This mission of SASNOC would not have been possible without the support and guidance given by that of ONOC,' said SASNOC.
ONOC is ably supported by others to create a shared model of services, a concept not foreign to Pacific island cultures. Key specialist support for Team SamoaMs Mikaela Heilman, who is no stranger to Team Samoa, being part of the 2019 Pacific Games medical leadership staff will provide not only medical support for the Samoan Olympias but also education and resources on topics ranging from nutrition, recovery and mental well-being.In addition, anOlympian, who represented Samoa in various world and regional championships before transitioning to a role at the International Olympic Committee, Jeremy Dodson will also work alongside Team Samoa to share his newly gained knowledge in IOC's athlete engagement programme, Athlete365 in the hope that it will support SASNOC for future athletes. Team Samoa is also supported by the Ambassador of Samoa to Japan, Her ExcellencyFaalavaau Perina Sila-Tualaulelei at the Samoa Embassy here in Tokyo. Team Samoa and SASNOC are grateful for the support and guidance provided by Madame Sila-Tualaulelei and team.
This evening, Alex Rose, discus thrower and two time Olympian will lead Team Samoa as flagbearer for the Opening ceremony, which will be streamed live to 4.9 billion viewers across the globe. Rose first represented Samoa in the 2015 World Championships, and then onto the 2016 Rio Olympic Games. Currently ranked top-5 in the world for his event, Rose will step into the throwing ring in similar fashion to how he will carry the flag, strong and proud.
This will be followed tomorrow (Saturday 24 July 2021) by the two boxers -Marion Faustino Ah Tong, competing in the welterweight division and Ato Plodzicki-Faoagali in the heavyweight division. The two boxers based in Australia will be the first of our athletes to compete at the Ryogoku Kokugikan, in the northern district of Tokyo.